The Dodrill Family
About the Dodrill Family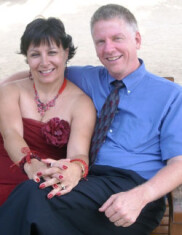 YFC began in Spain in 1948 right after the World Congress in Beatenburg. It thrived on big rallies for several years but later fell on hard times due to lack of leadership. Mark and Stephanie Dodrill were married in 1977 and first went to Spain in 1982. Later they took time to get Masters Degrees from Fuller Theological Seminary, and Mark got his doctorate from Trinity Theological Divinity School. When they returned to Spain, they were the only staff left. Stephanie tells about adopting two children and then getting pregnant with their third. In the past 20 years the ministry has grown with a new Youth Center, camp ministry, youth leader training and reaching out to start YFC in Bulgaria. They are currently experiencing the best ministry ever, with many young people coming to Christ.
Resources
Learn more about the Dodrill Family and Youth For Christ by checking out the resources below!
Website: https://es.yfci.org/
Pray for the Dodrills
Recruitment of staff and volunteers.
Leadership guidance and decision making.
Increased networking and relationship building with churches, individuals and organizations.
Increased ministries in the youth center and expansion of other direct ministries.
1 Mark and Stephanie Dodrill on their 33 Years with YFC/Spain. (2015, April 2). Retrieved
from http://www.yfc.net/about/storiesblog/mark-and-stephanie-dodrill-on-their-33-years-with-yfc-spain