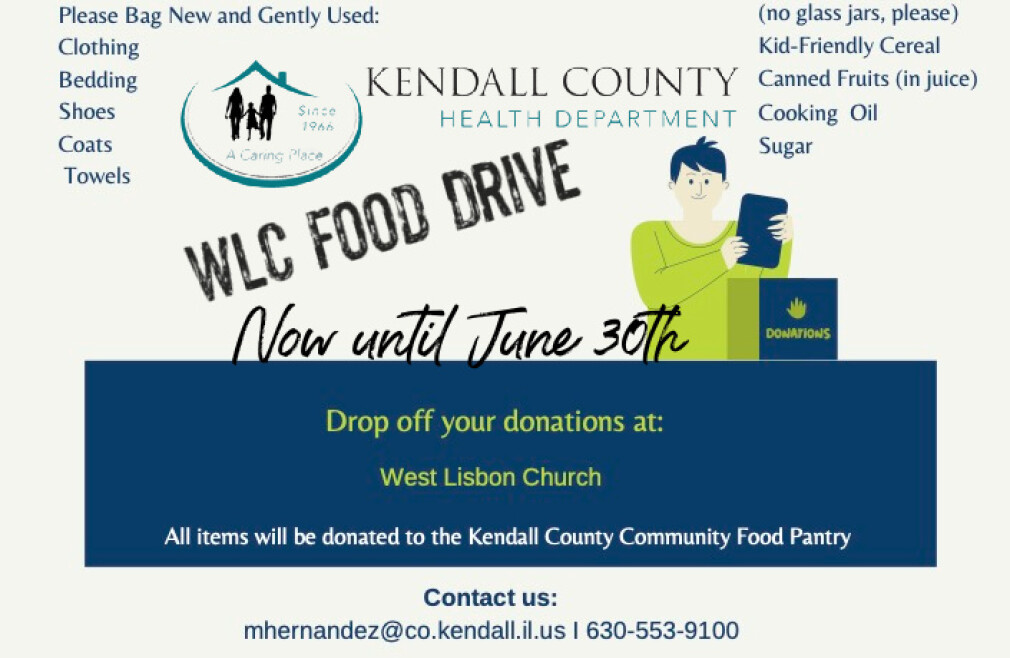 Wednesday, June 30, 2021
To address the increased food demand in Kendall County while also raising awareness for mental health and substance use, the Health Department is running an extended food drive to bring awareness to National Prevention Week (NPW)— a week where communities and organizations across the country come together to raise awareness about the importance of substance use prevention and positive mental health. The goal is to partner with local organizations to create accessible areas to drop off donated goods for the Kendall County Community Food Pantry. Other preventative measures include distributing resources that address nutritional assistance, housing assistance, and treatment options for mental and substance use. The Kendall County Health Department will be running the extended food drive from now until June 30th. Food and other items can be dropped off at the Health department or here, at West Lisbon Church in Newark, IL. The Kendall County food pantry is also accepting monetary donations here.
Kendall County Community Food Drive will run from Now until June 30
th
We are accepting the following donations:
Most Needed Items:
(No glass jars please)
Kid-Friendly Cereal
Canned Fruits (in juice)
Cooking Oil
Sugar
Other Items
Please bag new and gently used:
Clothing
Bedding
Shoes
Coats
Towels
Collection boxes are located in the foyer. Please bring your items on Sunday or arrange for a time during the week to drop them off with the church office. (815) 736-6331 Text is fine.
For any questions or concerns, please contact Miguel Hernandez at 630-553-9100 ext. 8055 or email at mhernandez@co.kendall.il.us.