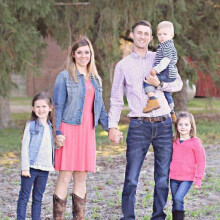 West Lisbon Church officially installed Rex as the 14th pastor of West Lisbon Church on Sunday, February 22, 2015. While many friends and family members planted and watered seeds of the gospel into Rex's life, he did not trust Christ as his personal Savior until the spring semester of his freshman year of college in 2001. Since then, he has been burdened to give his life for the Lord, just as the Lord Jesus laid down his life for us (Mk. 10:45).
He has previous ministry experience as a youth pastor at Fairview Baptist Church in Minford, OH from 2003–2007 and as a youth and outreach pastor on the pastoral team at Scofield Memorial Church in Dallas, TX from 2007–2014. He completed his B. A. in Bible/Theology from Tri-State Bible College in South Point, OH in 2006 and his Master of Theology (NT emphasis) from Dallas Theological Seminary in 2011.
He and his wife, Aimee, married in 2005, and they have three children. Pastor Rex is eager to make disciples for the glory of God as we extend the embrace of the gospel at West Lisbon and into our community. His favorite Bible verse is Romans 12:12 because he feels it sums up the spiritual life as he seeks to walk with the Lord day by day.
Rejoice in hope, be patient in tribulation, be constant in prayer.
Romans 12:12
Rob Scott
Youth Director
E-Mail:

Emma Smith
Church Custodian and Facilities Care
E-Mail:

Tee Meyer
Church Secretary and Office Manager
E-Mail: